Propane gas connection
The nomadiQ Grill can be connected to a standard portable gas supply. A common propane fuel tank is Coleman's or Bernzomatic 1lb. cylinder, which will last approx. 3 hours! This type of canister is lightweight, cheap and available at most hardware or outdoor stores, supermarkets and larger gas stations.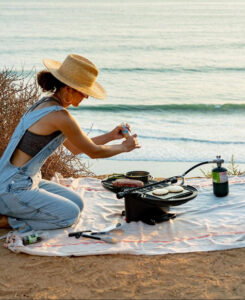 Alternative propane gas connections
By using an OPTIONAL adapter, the nomadiQ grill can also be connected to a larger 20 lb. gas tank or your RV. This means hours of grilling, entertainment and fun!