Healthy
Grilling is one of the healthiest ways to prepare food. The strong, direct heat source ensures that your food is ready in no time. As long as you make sure that you don't burn your food. Nobody likes the burnt flavour or crunchy charcoal texture. Besides that, burnt food is NOT ideally healthy.
But the nomadiQ grill comes with 2 grilling sides which can be controlled individually by the regulator knobs positioned on the side. This feature is ideal for foods that require different cooking temperatures, or for keeping food warm. Additionally, switching one side off is always an option. So less change to burn you food and keep it warm until the salad is served and everybody is ready.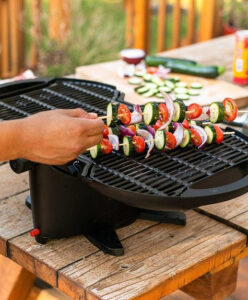 Be healthy everywhere with the nomadiQ Griddle
The nomadiQ comes with two grates with a non-stick enamel coating. One on each side. Both sides can be adjusted individually. So you can grill vegetables on one side, meat or healthy fish on the other side. UPGRADE your nomadiQ grill with the nomadiQ griddle accessory to fry food anytime, anywhere! Now you can stir-fry food. And that's where the non-stick coating comes in because it allows you to fry with a minimum amount of oil or butter. Additionally you can loose some calories after you hiked a few miles to get to your favourite barbecue spot.
   
Follow the basic guidelines while barbecuing outdoors.
Grilling is good for you long as you follow the basic guidelines and safety tips. But make sure you always keep your food as cool as possible. Out of the sun and away from animals. The nomadiQ cooling backpack offers enough space and cooling capacity for your basic needs.